So for a while I had been doing gratitude lists- or things that I was unbelievably grateful for in my life from big to small- and I had been doing pretty well until recently, when I just became slack with it.. Today I sat down to have some quiet time, cup of coffee in hand and Josie snuggling by my side, like most mornings, and for some reason I got caught in the trap of blog reading instead- I know, I know....worldly distractions at their best. But then I ran across this video a post on thenester.com… (go here to read the full post)



The book mentioned is One Thousand Gifts, from the author on aholyexperience.com, so of course that was my next stop was to figure out more about this book and where in the world I could get it, and let me just tell you- God caught me right in my blog-browsing steps and let me know what I should be spending my Monday morning on. And this is now Multitude Mondays- on a day that is so dreaded in the world, because it is the start of the long work week, the end of the great weekend, I'm going to find the goodness on Monday.
Today I am so thankful for…..
1. Lamentations 3:22-23 It is of the LORD's mercies that we are not consumed, because his compassions fail not. They are new every morning: great is thy faithfulness.
2. My sweet friends Adam and Mary, and their journey to China. They remind me daily what it means to follow the Lord recklessly, trusting Him with everything.
3. Quiet mornings on the couch with Josie and a cup of coffee.
4. Books- I've recently taken a new interest in reading. I used to just be the summer beach reader.
5. Sweet reminders of the faithfulness of my Father.
6. Love.
7. Learning to Love better- and being tested in everyway shape and form.
8. A great afternoon with my dad, learning photography from him.
9. Having friends join us at church.
10. The friendship from Jennifer, and the joy of her pregnancy.
11. Being constantly taught something about how weak I am, and how strong the Lord is in my life.
12. Uncertainties- because they make me learn to patiently wait on God's timing for everything.
13. Seeing my sister happy- and in love. Its about dang time!
14. Roses from John on my birthday, that are wilting, but smell so good still so I'm leaving them wilted, on the coffee table a few more days!
15. John- and knowing that he loves me, and that no matter what, we can make it through the hard situations and experience true grace on the mountain tops.
16. aholyexperience.com and the fact that the most recent post brought tears to my eyes…I love stuff like that.
17. The strength of my patients- I WISH I was as strong as them. I have so much to learn.
18. Macy, my sweet niece, singing Happy Birthday Aunt Katie…makes my heart melt.
19. Knowing that the Lord is working through me even if I don't feel it or see it.
20. the story of the Prodigal son- and the portrait of my Father's love for me.
Happy Monday! What are you thankful for?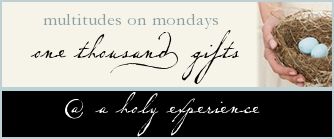 \