I feel like this week it has just been laid on my heart that this life I live, it is not my own. We have no say if it last 3 months or 83 years. We have absolutely no guarantees that we will see our children get married, or even have children. We are not promised our next breath. This is a harsh reality, something so hard to take in- but there is something so good for the soul when this truth speaks to us.
I need to be reminded constantly that I am not in charge here. I need to be reminded how blessed I am to have my health, a loving husband, and the air in my lungs.
This week John and I were faced with this reality, that we are not in control. We got word that one of our college friends, one of the sweetest women I know, tragically lost her husband. He was an ex-marine, and a firefighter. Best we can tell from the news reports, he had an episode of PTSD like no other, which resulted in him being shot and killed by an officer. His wife watched it all, as it took place in their front yard. He was 27. I am broken for her this week. I am broken that she watched her husband die, that after three years of marriage, she is now a widow. All I can think about is how scared she must have been, the sheer terror of the moment, thinking "this cannot be happening, this must be a dream." And then the reality, that her husband was gone. They have released the 911 tapes, but I cannot bear to listen to her calling in telling what was happening. My heart breaks for her thinking of how she will move past this, rebuild. Will she ever not feel that pain? She will never have children with her husband, she will never celebrate another anniversary with him. This wrecks me.
I know I am an oncology nurse, and I deal with tough stuff daily. I deal with people facing their worst nightmare that their life will end much quicker than they ever anticipated. I see their fears as they realize the potential moments they may miss out on, as it all sinks in.
I thought about it yesterday while at work, why am I not more affected by these things I see- why do I not let it radically change the way I live my life? I am always wanting to get to the next step, rushing past the very beauty of now.
How arrogant of me to think that I actually have a say in what comes next.
It makes me want to life that much more, to love that much harder, and to let every moment of this precious life wash over me, consume me, and change me. Does my husband know I love him? Does my family know how precious they are to me? My life should be consumed by loving these people around me…before its too late….
He'll wipe every tear from their eyes….the Enthroned continued, "Look, I am making everything new." –Revelations 21:4 the message
Take your everyday, ordinary life- your sleeping, eating, going-to-work, and walking-around life- and place it as an offering before God. Embracing what God does for you is the best thing you can do for Him. Don't become too well adjusted to your culture that you fit into it without even thinking. Instead, fix your attention on God. You'll change from the inside out…The only accurate way to understand ourselves is by what God is and by what He does for us- not by what we are and what we do for Him. Proverbs 12:1-3 the message
Time is all we have, now, that which we never need to merely find enough of, but rather the gift we are given to make something of finding time's impossible. We'll have to be intentional and get down to just making time, something of it all invisible. Every hour has sixty jeweled minutes, no matter who you are, or how long you have. –Ann Voskamp aholyexperience.com
Time is what's sacred, not a temple, a mount, a tablet were first deemed holy- but time. Right at creation, God blessed not a place or a thing, but a day, and made it holy. A whole string of moments. Time is always the most consecrated. –Ann Voskamp aholyexperience.com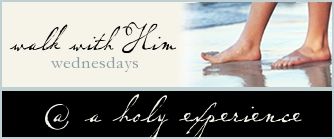 linked to walk with Him wednesdays @ aholyexperience.com