Linking up with Ann @ A Holy Experience for Multitude Mondays!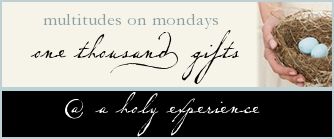 823. for our morning snuggle time in the bed, just me and my baby boy.
824. for John, his patience and strength
825. renewed hope in His promises
826. Krispy Kreme heart shaped donuts

827. for friendship across the state- bonding over motherhood with Katie and Sarah
828. for Sarah's strength and support through frustrating mommy moments
829. that I'm blessed with a husband, that is an incredible father to Landon.
830. daddy/Landon bonding time…

830. being silly with my sister, like we are little girls again
831. reflux medicine that helps my little guy feel so much better
832. eight hours of sleep several nights this week- thank goodness!
833. dinner with an old college friend
834. my night out without the baby, and that John stayed home to watch him
835. for prayer- its healing power.